Kids M M A
Bully Proof Your Child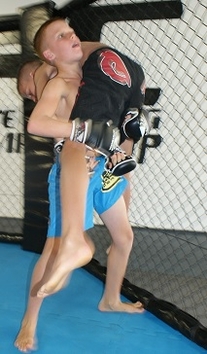 In a culture that exposes children to violence in everything from music to video games and television, the idea of enrolling your child in Martial Arts training doesn't always seem like a good one.

Your child can benefit greatly through the practice of Mixed Martial Arts. This sport can bring many things into a child's life including confidence, respect, maturity, discipline, physical and mental health. A common misconception about children participating in Martial Arts is that it will make a child more violent, aggressive, or more prone to starting fights. Having your child involved in Mixed Martial Arts can teach them them the discipline, respect and self-control necessary to avoid fights and defend themselves when conflict is unavoidable. The kids who are more actively involved in conflicts are those that lack this disciplined training.

Click on the video clips below to experience some of the training

Our Kids MMA classes focus on
1. Alive Training
Your child can't learn to swim on dry land, and even more they can't learn MMA
or to defend themselves standing in a line punching and kicking like robots. All
our training is based on 'aliveness' which emphasizes timing, movement and
resistance. Using proper gear and rules, our kids drill kickboxing, judo and
wrestling/grappling in a safe environment.
2. Fun

We do not believe in military type training methods. Your child will absorb and
learn so much more when having fun. Our staff are able to present the classes
at your child's level while ensuring mutual respect is maintained.
3. Variety
Our classes will expose your child to a variety of disciplines which will ensure
they never get bored. Your child will be trained in Kickboxing, Judo and
wrestling with the added benefit of our Bully Proof Your Child program ensuring
your child stands a better chance 'surviving' the school yard bully.