Mixed Martial Arts (MMA)
-The Ultimate in Combat Athletics-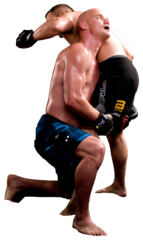 'I DO MMA' - is a phrase we hear where ever we go. It's a phrase that says so much, and so little all at the same time. It's a phrase that bears no real comparison to what Mixed Martial Arts actually is.

What does MMA actually mean? It's short for Mixed Martial Arts. It's the culmination of knowledge in a person that manifests itself in how they fight, how they train, even so far as how they live. Being a true Mixed Martial Artist is a way of life, something that symbolizes you and what you live for.

Please watch the video clip for a
short
introduction to MMA
What makes us unique ?
Why join our gym as opposed to others ?
(click on reasons below)

| | |
| --- | --- |
| Training for Body-Mind-Soul | One of the Pioneers of MMA in SA |