Tai Chi
-Meditation In Motion-

Tai Chi is a gentle art (Internal martial Art). Its movements are slow yet precise. It can be practiced by people of all ages - it is an art which can involve the whole family, helping to create an atmosphere of peace and tranquility. Learning the healing art of Tai Chi can be your first step to better health, more vitality and that special sense of well being which evolves when one finds peace within oneself.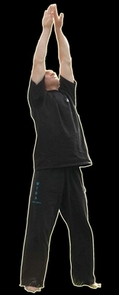 Tai Chi is practiced by about 20 percent of the world's population and is fast becoming the most popular exercise in the world today. Its rapid expansion is largely due to one important fact, it feels really good. Although Tai Chi was originally a martial art and is increasingly offered by martial arts studios, it's now practiced in businesses, hospitals and schools everywhere. Tai Chi is not only a valuable tool for improving health, it is a powerful business tool as well. Companies see that Tai Chi improves productivity by helping employees to be happy, relaxed, and creative. Hospitals see Tai Chi as a potent, yet cost-effective, therapy for nearly any condition. Tai Chi classes can be found nowadays almost anywhere.
This form of stillness in motion encourages the body to balance and heal itself.
The movements teach a philosophy of flow, balance and oneness. It is suitable for men and women in any physical condition. Chi is the life force of our body, flowing freely through twelve main channels to each of our vital organs. When this flow is blocked through stress or other outside influences, we feel unwell. The art of Tai Chi restores this life-giving flow of energy. It has the power to provide enormous inner strength which, in turn, aids our ability to cope with the pressures of modern day to day living.
We are proud to be part of the
World Taiji Boxing Association

Morné Swanepoel was personally certified and appointed as the SA Representative for the WTBA by Master Erle Montaigue in June 1999.


Please visit the WTBA website and enjoy one of the most comprehensive Tai Chi sites on the planet!

www.taijiworld.com